END DATE: December 1st 11:59 PM EST
As withering leaves of gold and umber begin to litter the ground, insulating the streets in a blanket of color, and the brisk breeze of fall rushes straight through your clothes and into your bones like a ghost coming to spirit you away, you shudder. For you are all too familiar with the inviting embrace of the season, its steady advances all building up to one spectacular time of year. A time filled with costumes, games, candy, gourds, and most of all celebration.

The spirit of fall has deepened and has begun tightening its grasp on this month as it always has for countless years. But this year something is different. Maybe you are accustomed to it by now, or maybe you think you are… Either way, as everyone is busy running about and preparing for the festivities to come, a strange new face manages to sneak into the bustling crowd and shows themself to you for the first time. They aren't very loud, or particularly flashy, but they are most definitely … odd. The first thing you notice about them is the large hand-carved gourd that they sport atop their head, shielding all view of their face from prying eyes.

•••••••••••••••••••••••••••••••••••••••••••••••••••••••••••••••••••

Spirit of the hallows: Mask Salesman
You encounter an unknown Grem with a truly odd demeanor, it grimaces a smile in awkward fashion towards you. Speaking in an eccentric, whispy tone, it tells you of it's obsession with candy, and that it would be willing to sell masks to users if they fulfilled their wishes. Now how do you get candy at a time like this? Frisk continues on as if they had read your thoughts "...well you see, finding candy is quite the simple task: dress up and seek for a street called "Sleeping Willow Lane", foraging for candy and completing these small requests... should give you all the sweet treats you very much require~"

"When you have candy, please come to my shop anytime to pay me in full~"
---
•••••••••••••••••••••••••••••••••••••••••••••••••••••••••••••••••••

"𝓗𝓪𝓵𝓵𝓸~ 𝓘 𝓪𝓶 𝓕𝓡𝓘𝓢𝓚!"🎃
An odd, festive Grem claiming to be the embodiment of Halloween itself! With an insatiable appetite for Halloween
goodies, Frisk has come to spread their spooky cheer to all...in exchange for candy of course...nothing less!
==================================================================


----------------------------------------
"You follow the sound of bizzare, festive notes floating on the late autumn air...
Suddenly a tall figure greets you; it's Frisk! - self-assured bearer of Halloween.
They pull you to their small shop stall; adorned with masks and items... check it out! 🍬"
•••••••••••••••••••••••••••••••••••••••••••••••••••••••••••••••••••
Raffles
Two free raffles will be hosted for this event! Winners of the raffle will have the choice between an E-T or a Predatory MYO that will be applied to their account.
----------
Raffle Links:


----------
How to enter:
If you are FFA, then you will direct yourself to the FFA raffle, FTO's can enter both raffles but can only be rolled for one.
After closing, all raffles will be rolled in the listed order. If you win a prize in one of the previous raffles you will be ineligible to win a prize in any of the the subsequent raffles. (One prize per person overall.)
Our Draw-A-Palooza Raffle is also available to enter! Read the information below to see how you can enter.
----------
----------

This Raffle is separate from the other free raffles therefore you will be rolled separately from them. (Eg: if you win a free raffle, you still have a chance of winning this raffle.)
==================================================================
Prompts
[Prompts]
There are a total of 3 Main prompts and 1 Mini prompt available for the duration of this event.
Prompts can be completed in any order!
Please see the individual prompts for more details and information on their requirements and rules.
[Event Completion Reward]
There will be an Event Completion Reward available to users who meet the following requirements:

Have completed each of the 3 main prompts at least 1 time each.
Have completed the mini prompt at least 1 time.
When completed, you will receive:
x1 Halloween Goodie Bag
==============================================
Event Completion Rewards for this event are now open! Please submit a claim with the form below filled out in the Comments area and all links included!
(To send in a claim, find the "Submit Claim" option from the "Submit" Drop down on the top right of any page.)
Claim Form:
For the Url section please copy/paste the following: October 2023 Event Completion Reward
In the Comments area please list:
- Link to approved Prompt 1 (Trick or Treat!):
- Link to approved Prompt 2 (Sharing is Sweet.):
- Link to approved Prompt 3 (Give them a Scare!):
And
- Link to approved Mini Prompt (Gourds):
(These links should be the on-site submission links with the approval status showing. You can find these under the "Submissions" area on your user page!)
---
🎃 EVENT FAQ 🎃
To participate in the event do I have to use the NPCS as an FTO/ N-O, or can I use other peoples' grems?
► No, you are allowed to use other people's grems in your entries so long as you have permission from their owner and you follow the prompt requirements when submitting.

Do the prompts need to be completed in any particular order?
► No! You can complete the prompts in any order, and some are even repeatable throughout the month. Please see the individual prompts pages for more information on submitting!
Can I submit an Event Completion Reward claim before the date given above?
► No. Please wait until the date listed as we will be sharing more info then on how to claim your reward. Any claims sent in prior to that date will be rejected until it is time.
Can I include Frisk in my prompts?
► Yes! However they cannot be the ONLY grem present in the prompt. At least 1 player/user grem should be visible and present as the focus character of the prompt. (The same rule also applies for any other NPC grem.)

If you have any further questions that we have missed, then please ask in the comments section on the DA journal, or in QnA within our Discord (please note that questions asked in the Discord server will be seen and answered more quickly than in journal comments)!
--------------------
Click the image for more details!
Completion Reward:
x5 Candy & x4 Insect Wings
👻💀🎃🍂🕷️👽🍬👻💀🎃🍂🕷️👽🍬👻💀🎃🍂🕷️👽🍬
--------------------
Click the image for more details!
Completion Reward:
x10 Candy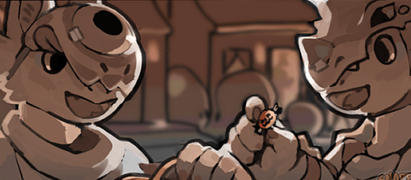 --------------------
Click the image for more details!
Completion Reward:
x15 Candy & x1 Hydration Gourd
--------------------
Click the image for more details!
Completion Reward:
x15 Candy & x1 Hydration Gourd
==================================================================
---
Foraging


----------------------------------------
Sleeping Willow Lane is a very historic street, being one of the oldest and longest streets in all of Rallome. This street is known by many candy collecting enthusiasts to be one of the most generous when it comes to handing out candy and other treats of all shapes and sizes! You will see many passing from house to house here as they try to satisfy their sweet tooths.
⚠
🍬 Foraging will play a key part in the event this season! Please be sure to forage as often as
you can for the duration of the event! You may even come across something good! 🍬